Are you looking to improve the search engine rankings of your site's multilingual pages?
Creating a multilingual sitemap helps Google, Bing, and other search engines easily find your content and index it. You can get more international search traffic simply by giving search engines an easy way to find multilingual content on your WordPress site.
In this article, we'll show you how to create a multilingual sitemap for WordPress.
Why Create a Multilingual Sitemap in WordPress?
A sitemap is a file that contains all the important content on your WordPress website. It is in the XML format and is targeted toward search engines instead of people.
Creating an XML sitemap for your multilingual website helps search engines find and index your content faster. For instance, if you have different domains or subdomains translated into multiple languages, then you'll need to create a sitemap for each website.
Note: If you're looking for an easy way to set up a website in different languages, then follow our step-by-step guide on how to easily create a multilingual WordPress site.
A sitemap is extremely important for your WordPress SEO. Let's say you just created a new multilingual website. Your new site won't have many backlinks, and it can be hard for search engines to discover your new articles and pages.
The sitemap provides a way for search engines to learn about your new content in another language. This way, your multilingual pages will start to get indexed and appear in search results.
That being said, let's take a look at how you can create a multilingual sitemap in WordPress.
Creating a Multilingual Sitemap in WordPress
By default, WordPress automatically creates an XML sitemap for new websites. You can add wp-sitemap.xml at the end of the domain, and WordPress will display the default XML sitemap.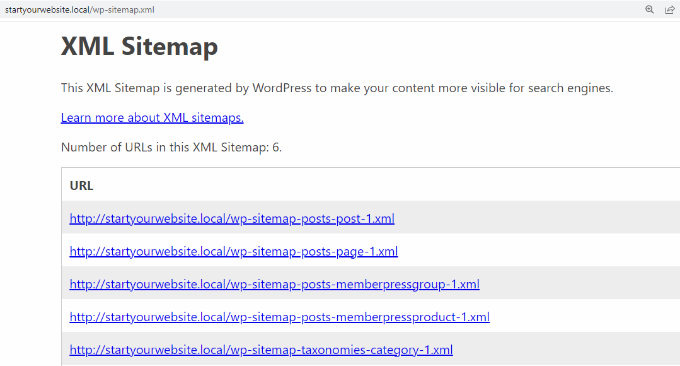 However, this feature is fairly limited and not very flexible. You can't control which content to add or remove from the sitemap.
The best way to create an XML sitemap in WordPress is by using the All in One SEO (AIOSEO) plugin. It is the best WordPress SEO plugin and helps you optimize your site for search engines.
It also automatically creates a sitemap for a multilingual site and gives you more control over which pages and website sections you want to show in the sitemap.
The sitemap feature is available in the AIOSEO Lite version for free. However, if you're looking for more features like video sitemaps, news sitemaps, redirections manager, and link assistant, then we recommend using the AIOSEO Pro version.
First, you'll need to install and activate the AIOSEO plugin. If you need help, then please see our guide on how to install a WordPress plugin.
Upon activation, you'll see the AIOSEO setup wizard. Simply click the 'Let's Get Started' button and follow the onscreen instructions. For more details, you can visit our guide on how to set up All in One SEO plugin for WordPress.
After that, you'll need to go to All in One SEO » Sitemaps from your WordPress dashboard and ensure that the 'Enable Sitemap' option is enabled.
AIOSEO will automatically create a sitemap for your multilingual website.
You can click the 'Open Sitemap' button to preview it or simply add 'sitemap.xml' to your website URL.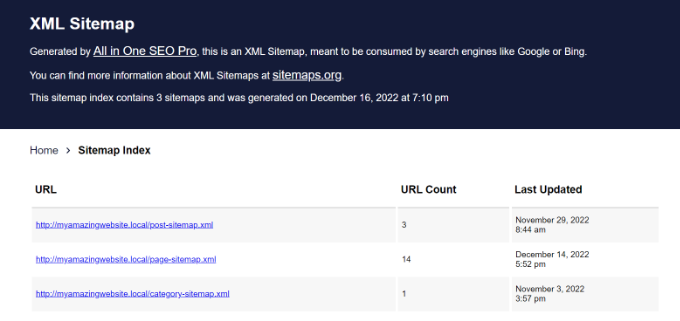 Please note that if you're using WPML to create multilingual sites, then AIOSEO will automatically serve sitemaps across different languages.
For instance, your sitemap URL will be something like /nl/sitemap.xml, /de/sitemap.xml, or /fr/sitemap.xml.
If you're using TranslatePress to create your WordPress multilingual site, then you will need to install their SEO pack addon which is fully compatible with AIOSEO.
Configuring Additional Multilingual Sitemap Settings
To further customize your multilingual sitemaps, you can scroll down in AIOSEO Sitemaps settings to view more options.
By default, the plugin lets you include all post types and taxonomies in the sitemap. It also gives the option to include date archives and author sitemaps.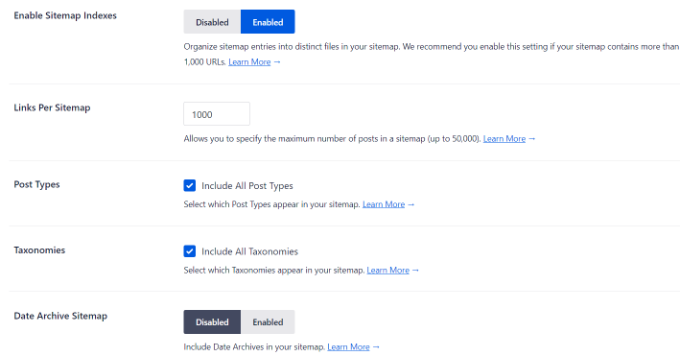 However, you can uncheck the 'Post Types' and 'Taxonomies' options and view more options.
For example, let's say you have translated content as a custom post type. You can simply check that option to include in the sitemap and exclude other post types.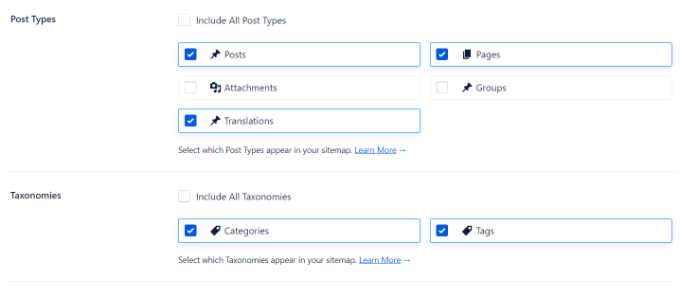 Besides that, you can also add more pages from your multilingual website to the sitemap.
For example, let's say you've translated a pillar article or an evergreen content into another language. You can add the page URL to the sitemap using AIOSEO and help search engines easily find your content.
Simply scroll down and click the 'Additional Page' toggle to enable the option. After that, you can add the page URL, and choose the priority and the frequency.
AIOSEO lets you exclude posts, pages, and specific terms from your WordPress sitemaps.
For instance, you can add different multilingual posts and pages that you don't to include in the sitemap. These can be contact us page, or terms of service pages translated in another language.
First, you'll need to enable the 'Advanced Settings' option. Then enter the URLs in the 'Exclude Posts / Posts' field and the terms in the 'Exclude Terms' field.
Submitting Your Multilingual Sitemap to Search Engines
Now that you've created a multilingual sitemap, the next step is to submit it to different search engines. This way, Google, Bing, and other search engines can easily find new content.
Submit Multilingual Sitemap to Google
Google Search Console is a free tool by Google that you can use to monitor your site's performance on search results. It helps you see which keywords people use to find your website and resolve any errors that might prevent you from appearing on Google.
Submitting your multilingual sitemap to the Search Console helps Google quickly discover new content.
You can simply log in to your account and head to the 'Sitemaps' option from the menu on your left. Next, enter your multilingual sitemap URL under the 'Add a new sitemap' option and click the 'Submit' button.
For more details, please see our guide on how to submit your website to search engines.
Submit Multilingual Sitemap to Bing, Yahoo, and DuckDuckGo
Similarly, you can submit the sitemap to Bing using the Webmaster Tools. The best part is that, when you submit your site to Bing, it's also automatically submitted to the Yahoo and DuckDuckGo search engines.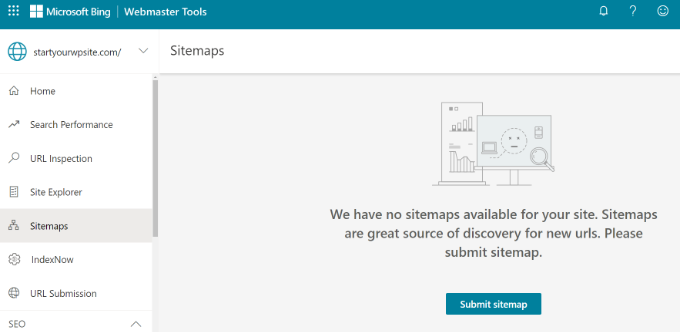 You can see our step-by-step tutorial on how to add your website to Bing Webmaster Tools for more details.
We hope that this article helped you learn how to create a multilingual sitemap in WordPress. You may also want to see our expert SEO tips to optimize your blog posts, and our expert pick of the best keyword research tools to improve your SEO rankings.
If you liked this article, then please subscribe to our YouTube Channel for WordPress video tutorials. You can also find us on Twitter and Facebook.